Leading in Benefits
1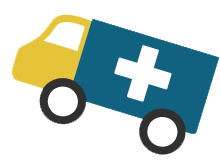 Health Coverage
We contribute 79% of the total cost of your health care benefits for full time employees, and premiums are deducted from your paycheck pre-tax. Did you catch that!?! Let me repeat, 79%. It's true, we wouldn't kid!
Retirements
How does your nest egg compare to the average retirements savings? Let us take the worry out of that. Through our Public Employee Retirement System program, we match 156% of your 4.8% contribution, and you vest after three years. Need more? Check out our voluntary Deferred Compensation Plan – we wouldn't just stop with one - we like to give options.
Employee Assistance Program (EAP)
Through our EAP partner we offer integrated, work/life programs to support you in bringing balance into your life.
4
Paid Holiday Time
Thirteen Paid Holidays a year. That's unheard of – really it is, we checked!
Paid Time Off
Vacation anyone? Hard work needs a break now and then. Enjoy 12 days of paid vacation a year - even better, this increases with years of service. Plus, 12 days for medical appointments and illnesses. We don't want you ill, but if it happens, we got ya covered.
6
Flexible Scheduling
We heard teammates are more productive and engaged when there is work life flexibility. Burnout anyone? We try to avoid it!
7
Tuition Reimbursement
Raise your hand if you like debt. Me neither! Americans owe over 1.56 trillion in student loan debt – that's a lot of debt! We don't want to add to that number, that's where our tuition reimbursement program could help!
Through Savings Marketplace, we have thousands of local, national, and online merchants we work with to help you save. Whether you're traveling or staying in town, there are plenty available. Some of our featured discount offers include: Amazing Pizza Machine, Lincoln Stars, Adventureland, AT&T, and CostCo Wholesale just to name a few.
Leave Donation Program
Sometimes the unexpected happens. That's why we have Catastrophic Illness and Maternity Leave Donation Programs in place, which allow our employees to donate their vacation to others in moments of need.
10
Growth Opportunities
We promoted over 2,000 of our teammates last year. Growth is how we do business.